Create a personalised postcard
We all know the postcard we buy during the holidays. With SimplyCards, you can now easily design and send a real personalised card from your smartphone or computer!
The SimplyCards personalised card gives you the option of designing the entire front and back. Here are more details on the possibilities.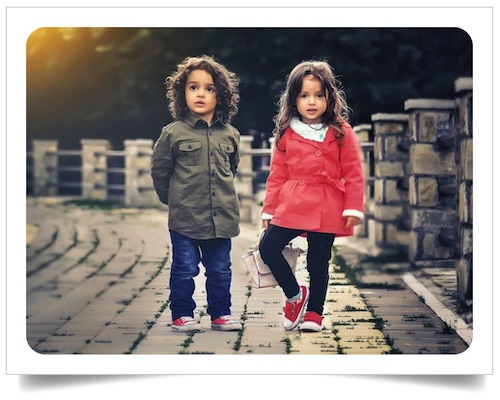 The image of the personalised card
You can use your personal photos to design the postcard image. Choose the composition template from 1 to 9 images. You can then select from your photos taken on your smartphone or tablet. You can also select photos from your Facebook, Instagram or DropBox accounts.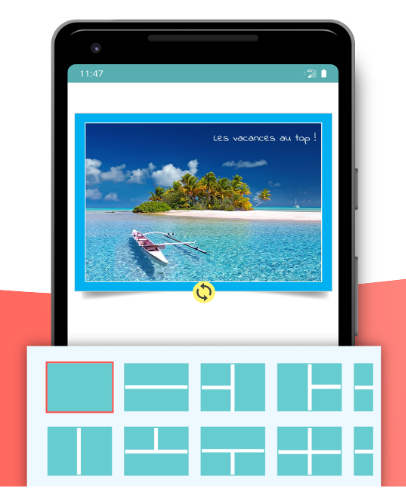 If a photo is difficult to insert on the same image, don't worry, it is possible to crop, zoom and even apply a filter. Finally each area can be easily resized with the finger. You want to change the composition along the way or invert the order of the photos? No worries, you can move the photos with your finger from one area to another.
To give more value to this image, you can add a frame. Many choices of frames are available to make a beautiful personalised card.
SimplyCards also allows you to add a small text to the image. For example, you can add the place where these pictures were taken.
The text of the personalised card
On the back of the personalised card, there is room for writing! You can choose from several fonts, three sizes and many colours. In short, everything is there to give free rein to your imagination.
You can add a title to your text. You can customize the title by selecting the country where the map is written. A flag and the name of the country will then be displayed as the title of the map.
If you're looking for a handwritten key, you can add a signature or a small drawing to your text that you can make with your finger on the smartphone screen.
The stamp of the personalised card
With SimplyCards you can also personalise the postcard stamp! Just like the image on the front, the stamp image can also be one of your photos from your smartphone or your social network accounts.
Recipient's address
Don't forget that this personalised card is a real postcard that will be sent by La Poste. It is therefore important to correctly enter the recipient's address to be sure that the card can be delivered by the postman.
An incredible personalised card!
In just a few minutes, you will be able to design and send a real personalised postcard that will make the recipient happy.
Find SimplyCards on Android and Apple smartphones and tablets. SimplyCards also exists on the web.