Since the birth of your baby, your family and friends have been showering you with birth gifts. You have also received many congratulatory cards. You want to say THANK YOU for all this warm attention! In the turmoil of the first few weeks, you may have forgotten to send out a few announcements, or not taken the time to call some relatives... Don't worry, by sending a lovely thank you card for birth, with beautiful photos of your newborn.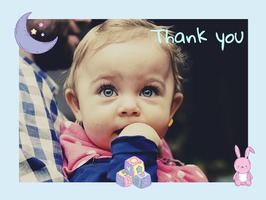 For your thank you card for the birth of your baby, you can choose from different formats offered by SimplyCards:
The postcard in standard format or the XL format if you want a larger card to showcase your photos.
You can also choose the Duo card. It comes in the form of a folded card in 14x14cm format. This card is sent in an envelope. You have 4 complete sides to personalise with your texts and photos. This allows you to design a card full of thank-you photos of your baby. Your loved ones will surely be delighted to receive such a beautiful card!
After ordering your thank you card online or directly on the smartphone app, SimplyCards takes care of everything! Printing the card, putting it in an envelope, stamping it according to the destination and sending it by post. No need to run to buy a card or have your photos developed, no envelope or stamp to buy, no post office to find... In the end, more time to enjoy your baby!
Some examples of thank you cards for your birth
Classic thank you card for the birth of a child
We would like to send you a huge THANK YOU for your support, your sympathy and all the affection that you showed us on the occasion of the birth of our little Lucy. All your attention has warmed our hearts. Lucy is in great shape and sends you lots of smiles.
Big kisses
Personalised thank you card
A little note to thank you for accompanying us in our role as young new parents. Your support and advices guide us every day in welcoming our little angel. Thanks to you, we are taking care of him with serenity and love! Thank you again for your generosity and your invaluable help.
Thank you card from the baby!
Thanks to you!
My Mum and Dad join me in thanking you for all the lovely gifts you have sent me. We were also very touched by your welcome messages. My parents are enjoying every moment of happiness, and would be very happy if you could come and visit us to get to know each other.
Thank you very much again and see you soon.
In the "Birth" section :