Greeting card
To prepare for life's big events, SimplyCards offers you its duo card format. This greeting card is very easy to create and can be fully personalised with your own text, photos and layouts. Its elegant format and careful design make the event card the best choice for celebrating the special occasions that are important to you!
What does a Duo format greeting card look like?
The Duo format is a folded card with two flaps in 14x14cm format. It is made of high quality card stock (280 g/m2 - PEFC certified). For shipping, the card is slipped into a beautiful white envelope. The card is then stamped and entrusted to the postal service for worldwide shipping.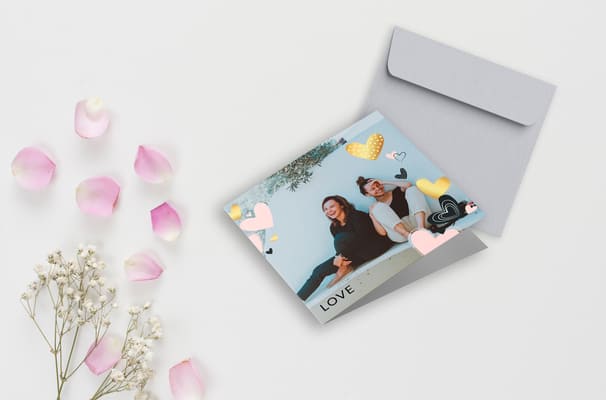 Compose my greeting card in detail
The SimplyCards application is very simple and intuitive. As an example, it will only take you a few minutes to
create an announcement
directly from your computer, smartphone or tablet.
Page1
This is the front of your greeting card, the front page, the one dedicated to the photos of your big event! You can choose and adjust your composition and add your photos. You can also add beautiful photos of artists thanks to the integrated PixaBay photo library. We also have prepared hundreds of themes for you to choose from to enhance your composition. There is a choice for every occasion:
birthday cards
,
greeting cards
,
Christmas cards
,
birth announcements
,
wedding announcements
... and many other occasions to discover in our Themes section.
Page 2
This is the inside left side. This page can be left blank. You can also use it to add text and photos. The layout is completely free for this page.
Page3
This is the inside right side. This page is for your message. There is plenty of space to write your text. You can also add your signature by drawing it with your mouse or directly with your fingertip on your smartphone or tablet.
Page 4
This is the back side of your card. A free area is available for adding text and photos. You can also add a QR-Code. It will allow your recipient to answer you directly by flashing this code with his smartphone. Useful for invitations!