For all our children, their birthday is a magical moment to celebrate! The gifts and the cake with its traditional candles are important elements to make the birthday a unique moment. Sometimes distance separates us from our children on this magical occasion. The birthday card for children allows you to wish them a very happy birthday from a distance and to send them lots of love. When they receive it in the mail, this pretty card will make them feel all the attention you are giving them for this festive moment! Imagine their eyes shining when they discover their name on the beautiful envelope brought by the postman! And what emotion when they open your card!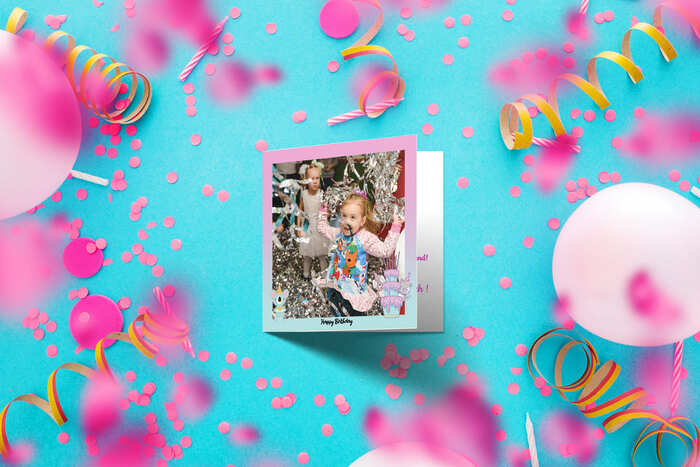 When can I send my birthday card?
As soon as you have made your birthday card with SimplyCards, we will take care of it. Allow one working day for the card to be made in our workshop, put in an envelope, stamped and delivered to the postal service.
Then you have to give the postman time! Please see our
FAQ
for more details.
Some ideas for children's birthday cards
For children, it is very important to adapt the content and the
text of the birthday card
: boys, girls, their sensitivity is very different and their taste evolves a lot according to their age. Here are some tips for a successful birthday card!
Birthday card for children under 4 years old
My Sweetheart, I love you so much!
You are a treasure for your family. Your Mum and Dad are so proud of you... You are growing so fast, already one year older!
Happy birthday to you!
Birthday card for a little girl (6-9 years old)
Happy birthday my princess!
Your family and friends love you very much. You are growing so fast, already one year older! You are a light and the most beautiful girl!
Big hugs! ❤
Birthday card for a little boy (6-9 years old)
Happy birthday my little prince!
You have become a big boy now! We wish you lots of happiness and lots of presents!
Enjoy your day, my darling.
Birthday card for a girl (10-12 years old)
Today is your birthday!
And to make the prettiest girl happy, we decided to write you this nice little note with her beautiful pictures of you. Enjoy your birthday!
Kisses my princess!
Birthday card for a boy (10-12 years old)
My prince,
You are now a big boy, but still cute! I want to tell you that you have a special place in my heart! Keep growing like this and you will soon be a handsome young man!
Happy birthday to you!
In the "Birthday" section: