Wishing a happy birthday to your husband, father or brother is possible with the birthday card for men, fully customisable and sent in an envelope.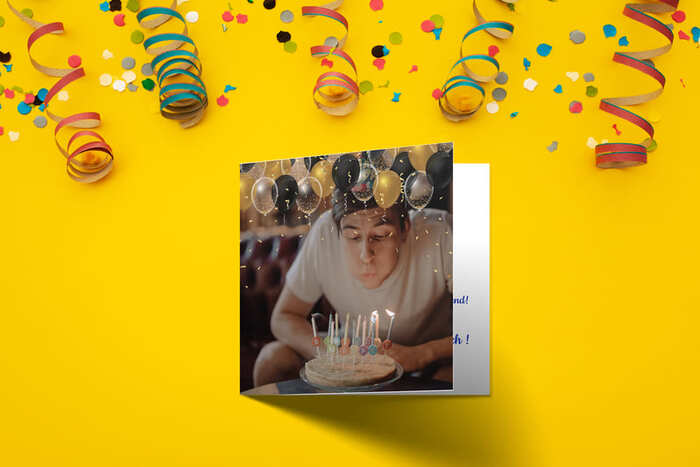 It is often said that men are strong and courageous, but we forget that they are also sensitive. Yes, it is possible to please him and show him that you are thinking of him. A good way to show him that you care is to send him a nice personalised card on his birthday.
Create a man's birthday card
Surprise him! Write an
original and personal text
that will make him smile. Add a few nice souvenir photos and that's it! After all, it's not that difficult to please a man who is blowing out his candles. Whether it's for his 20th birthday, his 40th, his 60th or even his 80th, a card is always a must...
Examples of birthday cards for men
So for those who lack inspiration, don't panic, here are some examples of texts to create the perfect birthday card!
Birthday text for my darling
You are constantly in my heart. I think of you very much. I love you with all my heart, with you I receive happiness and tenderness every day.
Thank you for being there for me!
Happy birthday my love.
I love you.
Birthday card for my Dad
You my Dad!
Today is your birthday, and I can't write a poem. But there is one thing I can do: send you a smile and a big hug.
So on this special day I wish you a happy birthday. ❤️
Birthday card for my brother
Dear Brother!
I love you because you are my brother and also because you are always there for me. So many memories shared together! You deserve the best! I kiss you and wish you a very happy birthday!
Birthday card for my son

I wish you a happy birthday. I love you ! I am so proud of you, of this little boy that I saw being born and who became the most beautiful thing that happened to me. I love you my son!
Mum
If you want to go even further, you can prepare a surprise: organise his birthday party, invite his family and friends. Prepare his favorite birthday cake, and go on quest for his dream gift!
In the "birthday" section: