Wedding announcement
With SimplyCards you can create and personalise your wedding announcement very simply. Do you dream of a chic wedding, a country atmosphere, an eco-friendly wedding, a casual or worldly style? Your wedding announcement, sent to all your guests, will be the first reflection of the most beautiful day of your life!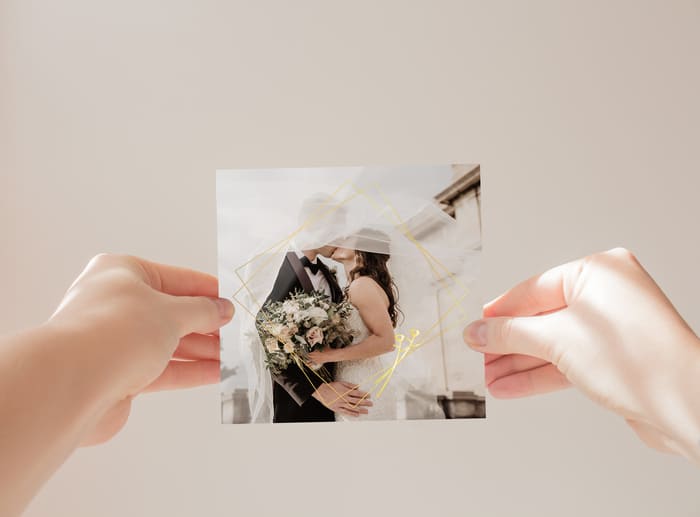 How do I write my announcement?
Sending your announcement means announcing your future engagement to all your family and friends. It's official, in a few words, you send everyone the place, date and time when your union for life will be celebrated!
Some people prefer to give their wedding announcement a particular originality, for the majority, the wedding announcement generally presents some essential information:
On the first page, a photo of the bride and groom is a must!
On the third page, the official announcement text, sometimes with the names and surnames of parents, grandparents and children who join in the joy of announcing this happy event! Do not forget to specify the place and date of the civil or religious celebration.
On the other pages, you will be free to add a picture.
On the last page, you will be able to add a QR Code to invite your guests to answer you very simply before a deadline.
Some examples of wedding announcements for your inspiration
Rustic wedding announcements
Do you love simplicity and nature and want a friendly and romantic wedding? Announce your union to your family and friends in a unique and warm way.
Eco-friendly wedding announcements
Are you looking for a personalised invitation that rhymes with nature, love and freedom? Are you committed to respecting the environment? Then you've come to the right place! It's time to announce your eco-friendly wedding to your loved ones. Don't forget to check out our nature theme.
Vintage wedding announcements
Are you nostalgic for the past and want to celebrate your union? Do you like retro atmospheres and old cars? Then the vintage wedding invitation is for you! Use your images by adding sepia or black and white effects for a vintage look.
Chic wedding announcements
Do you like elegance and natural distinction? You need a chic wedding invitation! Discover our frames to create a high class wedding invitation that reflects your image!
In the "Wedding" section: