Bachelorette party
Is your best friend about to get married? No more girlfriends' nights out and fun weekends? Not really! And to prove it to her, you're going to throw her a bachelorette party to match! So to get everyone in the mood, you want to prepare a bachelorette party invitation card !
With SimplyCards, it couldn't be easier... With the Duo card and its many customisable photos, you can put together a very serious file :-) To be sent directly to all your girlfriends. Unless you prefer to send an anonymous postcard as a teaser...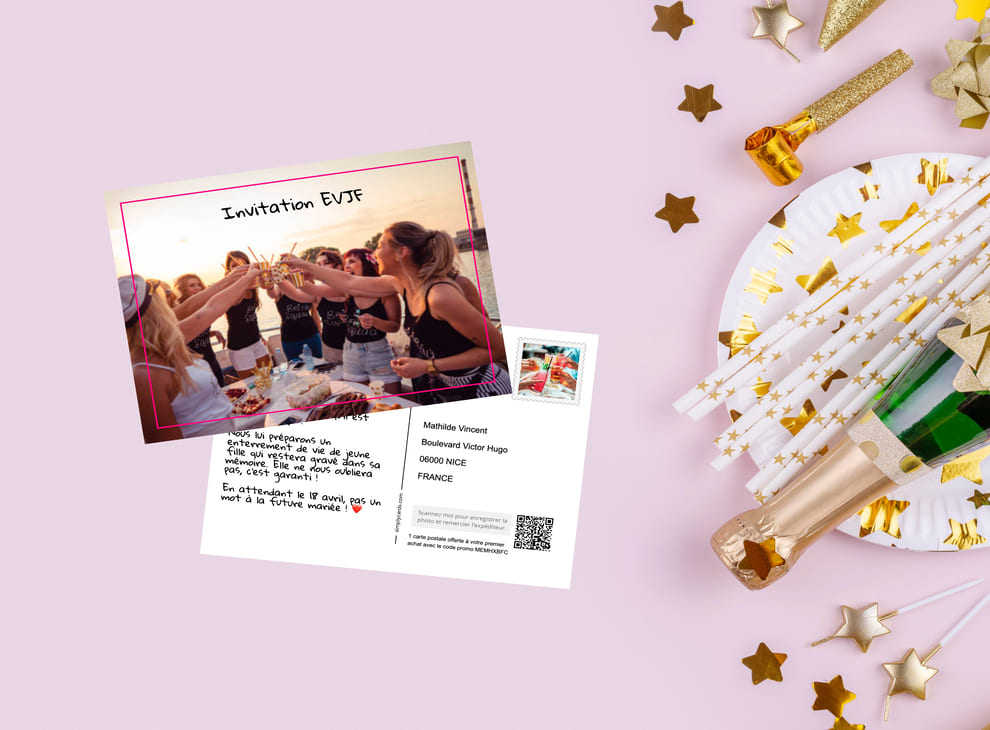 Examples of bachelorette party invitation cards
I can tell you, she's not going to forget her girlfriends anytime soon! And neither will the bachelorette weekend 😂 It's going to be dancing, singing, we're going to have fun! Kidnapping ordered on Friday evening. Blindfolded, direction... We have 2 weeks left to brainstorm girls, I'm counting on you! Please answer by flashing the QR Code.
Alison
Announcement to invite to a bachelorette party
The clock is ticking... The wedding is coming up... Quickly! Let's save her while there's still time! We prepare a bachelorette party that will remain engraved in her memory. She won't forget us, guaranteed! Until April 18th, not a word to the bride-to-be!
Bachelorette party invitation card
It is with great joy and emotion that we will soon celebrate the wedding of Carla and Victor. Of course, we have to accompany them for this beautiful event! I suggest that we all meet again for the bachelorette party of our favorite Carla! We're counting on your presence and your boundless energy to make this memorable day an eternal memory of our friendship! And to make the party even crazier, don't forget your costumes!
In the "wedding" section