Bachelor party
Is your best friend about to get married? No more nights out with friends, no more beer parties and no more bachelor parties? To force him to think hard before joining the ranks ;-) you are going to organise a memorable bachelor party for him! And to get everyone in the mood, you want to prepare a colorful and emotional bachelor party invitation card!
SimplyCards makes it easy... With the Duo card, you can create and send your invitation card by adding a mass of photos directly! From the coolest to the craziest ones, and even the most offbeat photos! Don't forget to keep a copy of your creation to display on your wedding day!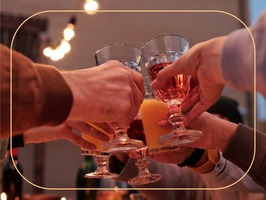 Examples of bachelor party invitation cards
With SimplyCards, you'll be able to pull up all your photos directly from your social networks Facebook, Instagram and Dropbox. You can also use the Pixabay photos integrated in the application to find cool photos! Add a touch of humour to set the mood, or a little mystery to spice up the invitation...
Friends, it's no longer a secret that Leo is getting married in a few weeks. He's going to let the rope go around his neck! Friends, witnesses, our mission, if you accept, is to prepare a stag party that he will remember for a long time! I count on you! RSVP by flashing the QR Code. PS... Does anyone recognise the photo on the card?
Marius
Only a few weeks left... The date is set... Time is running out! Let's celebrate while there's still time! See you all at the stag party on the weekend of June 5th. Bikinis, sunglasses, treasure hunts, street songs and all kinds of challenges are on the agenda! He can't know anything... We'll pick him up on the way out of the office! One for all and all for one!
Marcus
Bachelor party invitation card
It is with great joy and emotion that we will soon be celebrating the wedding of Lucie and Thomas. To help Thomas get through this beautiful event, I suggest that we all get together for our favourite Thomas' bachelor party! We're counting on all of you and your brilliant ideas to make this day a memorable one! And I'm not talking about the party ;-)
In the "wedding" section :