Your wedding party is coming up. Amongst all the preparations, don't forget to send out your wedding invitations early enough! SimplyCards helps you to create beautiful and 100% personalised wedding invitations! You can choose between the simple invitation card sent as a postcard, and the Duo card. This Duo wedding invitation card is a 14x14cm folded card sent in an envelope. All our cards are printed on high quality card stock and sent directly to your guests by post!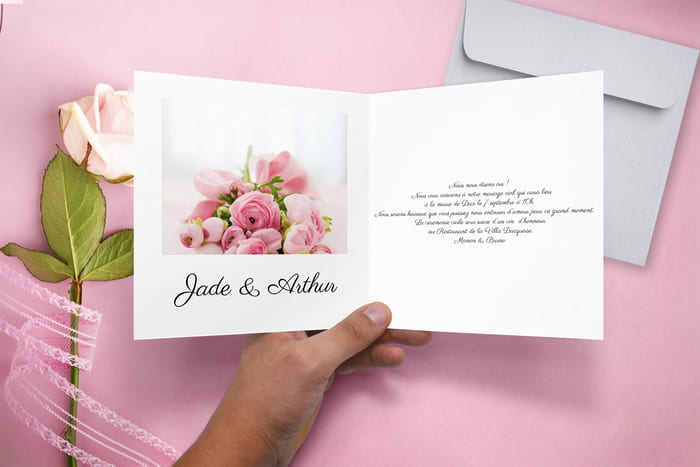 Some tips for preparing your wedding invitation cards
First of all, you need to decide on the place, date and time for the invitation. Then you need to prepare the guest list. For each of them, it is imperative to find their precise postal address in order to be sure to send the invitation to the right destination.
We also advise you to offer the QR code directly on your invitation card. Very easy to use for your guests, they will be able to answer your invitation in a few clicks. For each answer, you will receive an email from SimplyCards.
A wedding invitation card that suits you!
You can use the many themes offered in SimplyCards. Add your most beautiful photos for a colourful invitation! Below are a few examples.
Vintage wedding invitation card
Tom and Amelia
After years of love and happiness, invite you to their wedding. The ceremony will take place on August 7th, at the town hall of Manchester.
Please reply before 20 July
Rustic wedding invitation card
Victoria & Charles,
Are pleased to invite you to their wedding on Saturday 2 May at 2pm, at the Sky Garden. After the ceremony, the families will have the pleasure of welcoming you for a country-style dinner in the village hall.
Chic and elegant wedding invitation card
Jade & Arthur,
Will be happy to receive you at their wedding. Response required before July 3rd, Cocktail from 5pm followed by an evening at the Wentworth Castle at 7pm
Nature wedding invitation card
It's a yes for life!
Tony and Julia are very happy to announce their wedding. It's a flowery day that awaits us! The ceremony will take place at 12pm at the Hyde park
please confirm before April 21st.
In the "Wedding" section :