How can I just tell him (her) I love you? How do you surprise her love with a little gesture?
We all know that receiving a card in your mailbox is a great pleasure. It is a very personal little intention that leaves no one indifferent. Just imagine the emotion he feels when he discovers this card in his mailbox.
We offer you a very simple solution that is sure to hit the bull's eye!
You have understood that we suggest you send her a beautiful love card, a card to tell him (or her) I love you... If Valentine's Day is an unavoidable date to send these testimonials of love, why not surprise your loved one and send him or her this little card today.
First, select the most beautiful photos of you two. Three or four photos will suffice.
These photos should reflect some very good moments spent together. For example, you can go and look for pictures of a nice weekend spent together or pictures of your last holidays. A nice selfie will also be a good candidate.
You can send the card from your mobile phone by downloading your favourite SimplyCards postcard app. You can do this as easily from your computer by going to
www.simplycards.com/app/
First choose your composition, the one that corresponds to the number of selected photos and place the photos one by one. You can easily adjust the size of the photos by moving the separators between the images. Feel free to refocus the photo if necessary by clicking on the photo to be modified.
Then go to the love theme, and choose the one that best suits your tastes and that will match the photos perfectly.
You can add a small text on the picture like "For my Love...", a no less classic "I love you..." or a simple smiley ❤️ or even 💋 !
Satisfied with the image of this love card? Now you have to write the text of the card. Be brief and to the point! Here are some suggestions:
«  This love card to tell you I love you! »
« A little card to tell you how great my love for you is! »
« All these wonderful moments we've spent together... I love you my Love. »
« My everyday happiness is to be with you, my Love! »
«  You are the light of my life, you light up my thoughts, I love you! »
« It is with YOU that I am happy. I love you »
To make it even more romantic, you can also opt for the famous poets of French literature and leave your pen to Ronsard, Baudelaire or Appolinaire. faire encore plus romantique, vous pouvez aussi opter pour les célèbres poêtes de la littérature Francaise et laisser votre plume à Ronsard, Baudelaire ou Appolinaire.
« Died Darling, you are for me the most beautiful of life and the noblest on earth. I love you for all that you are to me, for all that you can write to me, for the way you can act and how infinitely I love your beauty, your body, your gestures, your voice, and all that appears from you. »
Finally personalize the postcard stamp for a final wink. Don't hesitate to browse through our artist's photo gallery by searching for the keyword Love...
All you have to do is send this love card that will undoubtedly make him (or her) very happy!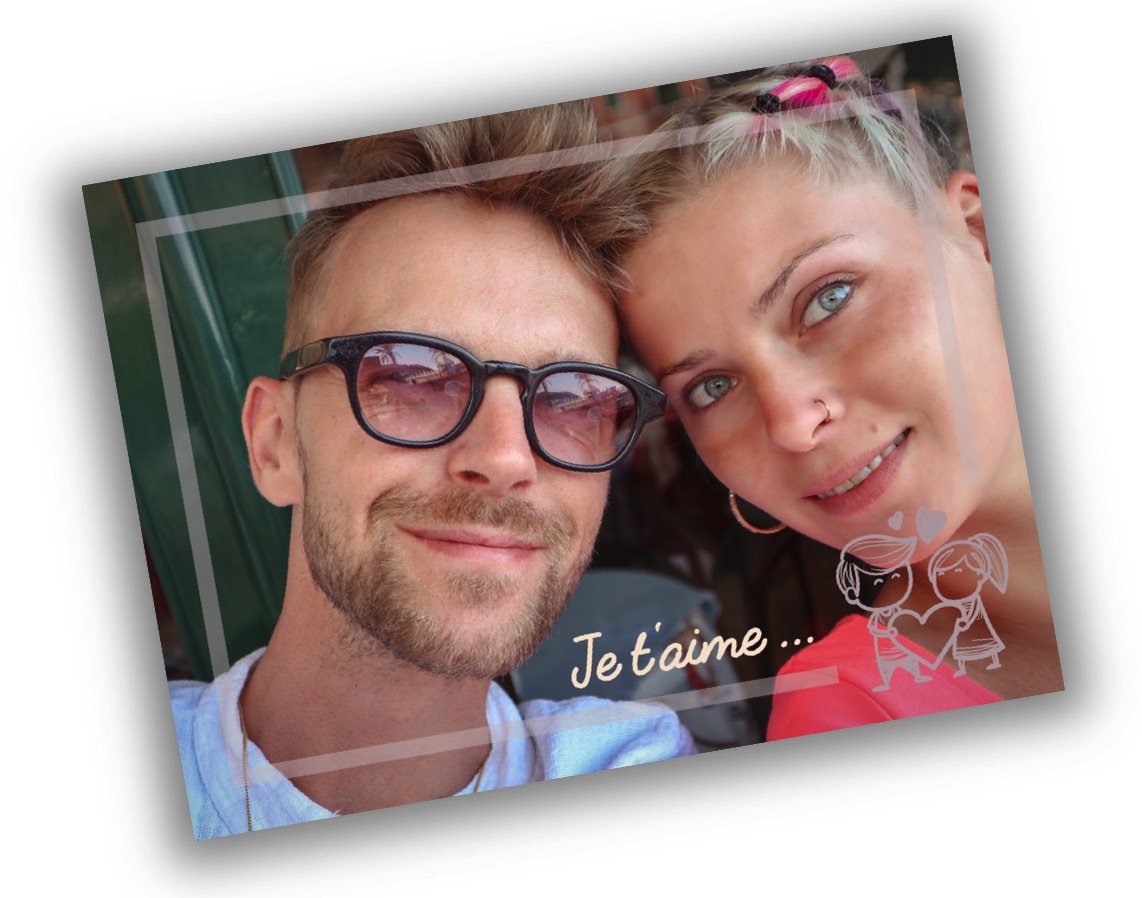 Sample card to tell her I love you